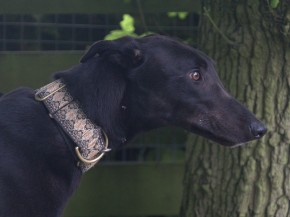 If you are a fan of a GENTLE GIANTS of the greyhound world meet Duke(2), he is one of two siblings (see also brother Ian, as they should be re homed together) who recently joined us at GRF.

They donít come much bigger or sweeter. Duke is just a baby at only 2 years old.

Duke is un-raced and unregistered (no tattoos) and has not seen much of the world, and would love a kind, patient and loving home to help him settle and bring out his fantastic potential.

Still a little shy but making great progress and enjoying his woodland walks with brother Ian. He is initially strong on a lead to start but settles into his walk, this is sure to improve with time.

We would love to home Duke and Ian as a pair, as they have always been together and they would be great company for each other. You know what they say, why not two greyhounds?

He is sociable with smaller breeds as he spent a short amount of time with two Jack Russells and an established homed greyhound, he got on very well with them all. With the right introductions he could live in a home with other dogs.

Like two peas in a pod both brothers are beautiful souls.

If you are interested in sharing adventures with two big furry bears call Celia on 07826 244765 .