Dog of the Month.
Each month we will feature one of our dogs as "Dog of the Month".
Davy is our dog for February.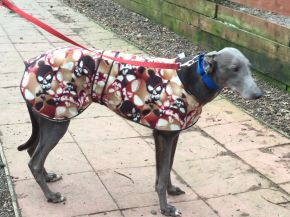 DAVY was born in May 2014, has been microchipped and he is a beautiful blue / grey male. The first thing which strikes you is his size...he is huge! In fact , he is a gentle giant who is very friendly and good natured. He is, in fact, a perfect gentleman. Calm and well-mannered and he gets on well with the other greyhounds, especially his lovely kennel mate, Nina. He is very affectionate and loves to give you kisses and adores it when you give him Tender Loving Care in return. He loves being with people, enjoys going for a walk....and walks beautifully on a lead, clamping himself close to your side. He is very new to the kennels and is still getting used to different routines and at times, appears a little unsure . He doesn't like to be tethered outside as this makes him feel insecure and anxious. He would make a fabulous addition to a couple or family who are willing to introduce him to new experiences and build his confidence. He will be a loyal and loving member of your family.