In Memoriam Page 1.
You think dogs will not be in heaven? I tell you, they will be there long before any of us.- Robert Louis Stevenson.
Paddy who died April 2009. The house is so empty after his exuberance in the garden and quiet presence in the house. Eleanor and David.
A dog never dies, he always stays, he walks besides you on crisp autumn days when frost is on the fields and winter's drawing near, his head within your hand in his old way.

- Anonymous
| | |
| --- | --- |
| | Everyone at Greyhound Rescue Fife will never forget our most beautiful golden boy Glen and the magnificent fight he put up for his life. Run free over Rainbow Bridge dearest Glen. |
| | |
| --- | --- |
| | |
| My darling Charna - who will keep the boy hounds in order now? She would snarl and lick them into shape, then lick their wounds.when they hurt themselves - unforgettable. Marion Roberts. | Rudi Ruddles - always remembered. Evelyn Black & Amy xoxo |
| | |
| --- | --- |
| | |
| Sadly missed, a true best friend. Andrew Rae. | Honey was my first Greyhound. Just over 20 years ago she arrived on my doorstep a half-starved rickle of bones. The vet said she should be put to sleep, but a little care and attention brought her back from the brink and she remained my friend and constant companion for the next 10 years, introducing me to the world of the retired Greyhound. Andrew Rae. |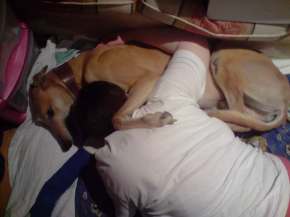 Dear Glen, Thank you very much for being a part of my life, you will live on forever in our lives.
Catherine, Duncan and Steven xxx.
---
When it's time for me to go
And we have said farewell
Please don't mourn for me too long
But try to sing as well.
Sing about the happy times
And let the sad ones go
Fill your heart with joyful thoughts
For life's too short you know!
Speak of me with fondness and
Recall our special days
Hold dear those happy memories
That time cannot erase.
Each wouldn't wish we'd never met
Tho' now we've had to part
So walk again the paths we trod
But not with heavy heart.
Don't close the door upon my life
Just because I've gone
In your heart and in mine too
Our friendship will live on.
Should you prepare a grave for me
To lay my soul to rest
A simple headstone with my name
Is what I'd like the best.
Or if my ashes you'd prefer
To scatter far and wide
You'll watch the breeze bear me away
Yet feel me by your side.
Be happy that our lives we shared
On sadness do not dwell
Maybe shed a tear or two
But will you sing as well?
© J Zatonski 2006.