In Memoriam Page 7.
No matter how little money and how few possessions you own, having a dog makes you rich.

- Louis Sabin.

In memory of Pal
Adopted June 15th 2010
Died 6th February 2017.
Pal was a lovely gentle boy, a quiet but reassuring presence in our lives. We miss him very much, and still love him. Thank you to Celia and Jimmy for entrusting Pal to us. Eventually there will be room in our hearts for another rescue hound.

Alayne and Richard.
He cannot be a gentleman who loveth not a dog.

- John Northbrooke.

We welcomed Cody (the jumper as Celia and Jimmy called him) into his new forever home in May 2008 after being the longest resident at the rescue. He has brought us great joy, laughs, tears, and his unconditional love in the 9 years he has been with us. Sadly Cody passed away peacefully at home October 9 2017, we are devastated at losing our big boy and will miss our old pal dearly. xx
The Mcmillan family Dundee.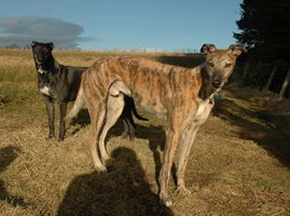 Our beautiful Shauna (Black) Passed on the 13th April 2014 one week short of her ninth birthday.
And now our Handsome boy Bobby (Brindle) Passed on the 9th of November 2017 aged 13 years and 3 weeks.
Both taken by that horrible Bone Cancer.
We gave them their forever home in Penicuik, on the 7th of June 2009, 8 years ago, and I can only say that those 5 years with Shauna, and the 8 years with Bobby have been the happiest years of our lives. I only hope that when I pass we can be re-united with them both and feel happy again.
I am sure they are both together now; so run fast and free my beauties.
Love you both now and forever.
Steve and Lorraine Oswald, Jackson, Kris, and Susan.
| | |
| --- | --- |
| | |
| Pam and I got Mia on the 2nd of May 2009 and Cozy on the 4th May and they have been the best of friends unfortunately Mia passed away on the 19th of December 2017 we miss her so much as she was a gentle giant always giving you smiles in the morning. | This is Mia and Cozy on their couch. |
In memory of Queenie. Our best friend, she was a champion dog who we adored. She will sadly be missed. Run free Queenie. From the McInroy's.
Blue with his little girls Candy and Poppy.

Blue came to us on the 20th of October 2012. We were grieving for the loss of our Rottweiler, our 2 little dogs were lost without their big pall so we decided to take positive action and rehome another dog. Blue was the one that Celia and Jimmy selected for us and he was a perfect match. He was a beautiful natured boy, kind, gentle and loving. We had 5 1/2 wonderful years with him and we miss him so much.
---
They say memories are golden,
Well maybe that is true,
I never wanted memories,
I only wanted you.
A million times I needed you,
A million times I cried.
If love alone could have saved you,
You never would have died.
In life I loved you dearly,
In death I love you still.
In my heart you hold a place
No one could ever fill.
If tears could build a stairway
And heartache make a lane,
I'd walk the path to Heaven
And bring you back again.
Our family chain is broken
And nothing seems the same,
But as God calls us one by one,
The chain will link again.