In Memoriam Page 9.
If you don't own a dog, at least one, there is not necessarily anything wrong with you, but there may be something wrong with your life.

- Roger Caras, A Celebration of Dogs.

We took Suki and her sister Missy Into our home in November 2011. We went for one, but Celia convinced us to choose 2!
Our beautiful little black and white greyhound Suki was sadly put to rest on 31 August 2020. The loss of her presence In the house Is strongly felt. We all miss her cheeky personality and unconditional love. Suki will always be missed by us all. Thank you for bringing such joy to our lives.
Garland family. Forgandenny.
In September 2019 I homed this beautiful girl. We named her Belle, she was our world, so sweet, gentle and kind, loved by everyone who met her! Rest in paradise sweet girl, Mummy and Iris will miss you.
| | |
| --- | --- |
| | |
| We had a devastating day at GRF yesterday, 8 November 2021. Our beautiful Doreen went in for her spay but sadly passed away. Although she was a recent arrival she made an unforgettable impact on all those who met and cared for her. She was such a bright and fun lady with a huge zest for life and she had such a great energy about her. She would have made such a fun pet and we are so sad she never got her 'happy ever after'. Jimmy and Celia are going to adopt her posthumously. RIP Doreen. | My Name is Eleanor Ballantyne and I adopted one of the loveliest greyhounds back in December 2020, known as Jazz at the centre. Unfortunately with Jazz we discovered a Lump on her in June 2021 and she was diagnosed with Lymphatic Sarcoma in August 2021. She had multiple rounds of chemotherapy and a spleen removal but sadly my girl lost her fight with cancer on May 20th 2022. |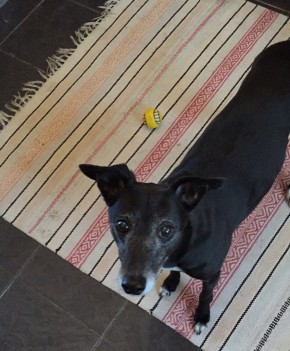 Iíd like to let you know that our boy Oscar passed away peacefully. We adopted him from my granny when she went into a home 5 years ago, she adopted him from greyhound rescue in 2009. Words canít explain what he meant to us.
Having just recently lost the last of our 5 hounds all of which have come from Jimmy and Celia since 2006, I'd like to pay tribute to both J and C and our lads and lassies for our 'Houndyears'.

From Minnie(Hoganderry Lara- foreground in pic) in that year. Lofty(Brian's Ross 2008- middle in pic) and Brett (2013 at the end in pic, but a winner according to Jimmy!) Most recently we lost Skyler - our 'too clever for her own good' Moohound girlie on 14/6/23. As if this wasn't hard enough, our 'awfully nice but dim' Bentley died under anaesthesia prior to dental work a month later. Bereft would be an understatement and we're taking stock to decide a way forward.
---
I haven't gone and left you,
I'm here, but you can't see
How close I am beside you,
Yes Mum, it's really me.
Thank you for your kindness,
You've freed me from all pain,
I know you're sad, but don't be,
Soon we'll meet again.
Death is really not the end,
It's just a passing on
Into a world of brightness,
Where fear and pain is gone.
I'm free to run around and play
Just like I used to do.
Until we meet again Mum,
I'll wait here just for you.