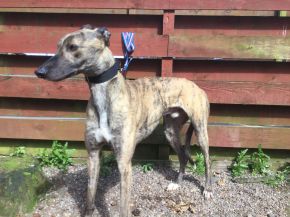 PADDY is a young male dog who is brindle in colour. He has a black muzzle and exquisite eyes, ringed with black kohl eyeliner and sweet little ears. Although he is a large dog and his first impression might be that he looks quite fierce, he is the sweetest and most gentle dog around.

He was extremely shy when he first arrived but is gaining confidence in himself and others as he gets used to the people and routines in and around the kennels. He walks beautifully on lead and enjoys being outdoors walking with you on his own or with another doggie companion. He is clean in his area too. He is not demanding and is happy to lie in his kennel watching what is going on until you are able to give him attention or take him for a walk. He loves when someone chooses to spend time with him though, and will stand patiently to be stroked or groomed.

He would do really well in a quieter environment with a couple or family who will show him kindness, fun and patience to develop his confidence further and allow his true character to shine. In return you will get a truly loving and loyal companion.