Post Your Pics Page 60.
| | |
| --- | --- |
| | |
| Who, me? | Playing biteyface. |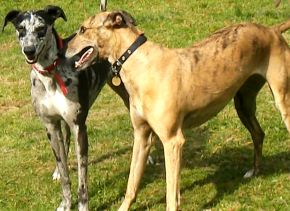 Are we done yet?
These are my Lurchers Ash and Misty. Ash, (the mum) is the brindle, and Misty her daughter is the Merle (black, white grey, and brown). They were rehomed in February 2018. ---- Phil Piper.
| | |
| --- | --- |
| | |
| Stuart and I rescued Mable from Celia and Jimmy in October 2018. She is absolutely gorgeous and we love her to bits. | She loves her fluffy toys and jumps up and down on them then goes to sleep cuddling them. We feel back to normal again thanks to Mabel and we're so glad we visited Celia and Jimmy when we did! Mabel must have been waiting for us. |
| | |
| --- | --- |
| | |
| Its great to be back enjoying our walks again. | This is a picture of Charlie settled in his new home. Thanks to Celia and Jimmy for all their support. |
My partner and I adopted Yogi about a month back (May 2021) and he has settled in very well. He is the most loving and friendly dog and we love him. ---- Adam Stevenson.
I have attached a picture of Shedfield Pebble (we have always used his racing name which suits him best) living his best life and snoozing through most of it. He is twelve and slowing right down but still loving life!
Jimmy and Celia we can't thank you enough for the work you do and for bringing Shedfield to us!