Post Your Pics Page 61.
Anna and David are delighted to have Barney, who has now been renamed Lennox, join us as a wonderful addition to our lives. He has been settling in well since we brought him back to his forever home in Leith, Edinburgh on Sunday 26th April 2020. He has been very calm and knows how to relax when he is at home with us and he has made himself very comfortable beside Davidís desk where he has decided to spend most of his time. He has even met the dog that looks just like him in the shiny silver wall.

We have already noticed a huge difference in his walking behaviour by being as consistent as we can in keeping a slack lead and giving him a bit of reassurance when he understandably gets a little flustered at all of the new sites and smells. He definitely knows when he is near his new home so the next thing we need to work on with the lead is walking nicely to get to the front door.

In summary, our first week has been an absolute joy with our lovely Lennox. Give or take the odd toilet accident, which is to be expected, he has slotted in to his life as a wonderful pet with ease and we look forward to countless years of happiness and companionship with our boy!

Thank you so much to Celia, Jimmy and the team at GRF for looking after him until we were able to meet him and give him his forever home. Keep up the fantastic work!
| | |
| --- | --- |
| | |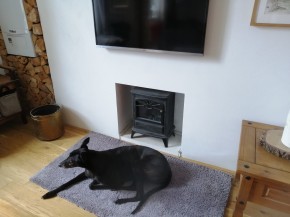 | | |
| --- | --- |
| | |