Greyhound Rescue Fife
Adopting just one Greyhound won't change the world,
but the world will surely change for that one Greyhound.


To contact us to arrange a suitable time to call to see our dogs, our telephone number is 01577 850393 or 07826 244765 or you can email us ferniejimmyf@aol.com or leave a message on our forum.
Greyhound Rescue Fife is a sanctuary for homeless greyhounds located at Baltree Country Centre near Gairneybank, Kinross. It is run by Celia and Jimmy Fernie and always has many lovely greyhounds looking for a home, plus, sadly, a constant waiting list of incoming dogs.
We'd like you to meet the founder of GRF. His name was TIGGY. He came into our home as an unwanted stray many years ago. We had never had a greyhound before but soon grew to love him unconditionally. We only had him a few years when he died of bone cancer. We were distraught. We had to do something in his memory so we got another male greyhound from whom we discovered that they all were fantastic dogs. This encouraged us to help abandoned geyhounds and so set up Greyhound Rescue Fife. So, it can be said that TIGGY has at this time, found homes for over 1800 of his fellow hounds and consequently can rightly claim the title of the founder member of GRF.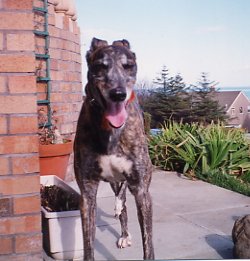 Tiggy.
We will never be able to accommodate the vast number of greyhounds reaching the end of their racing careers each year, but, we do the very best that we can. We will always try to match the right dog to the right owner and we ask you to respect our judgement in this if we ask you to consider a different dog to the one of your choice. Please click the "Adoption Process" button on the left for an explanation of this.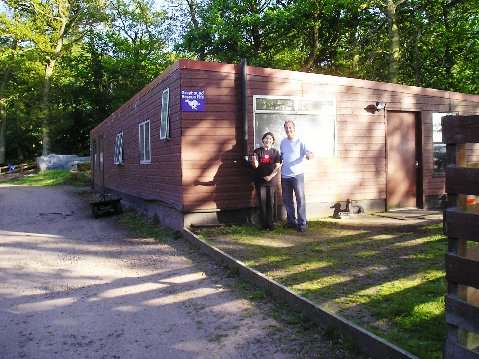 Baltree Farm Kennels.
If you have not had a greyhound before you may not know what wonderful pets these dogs make. The modern greyhound can be divided into three main types, the racing greyhound, the coursing greyhound and the show greyhound. The temperaments of all three types are similar - affectionate and comfort loving. Greyhounds lack the usual body odour associated with other breeds. Moulting is generally not a problem, except when they come in from an outside kennel with a thick coat.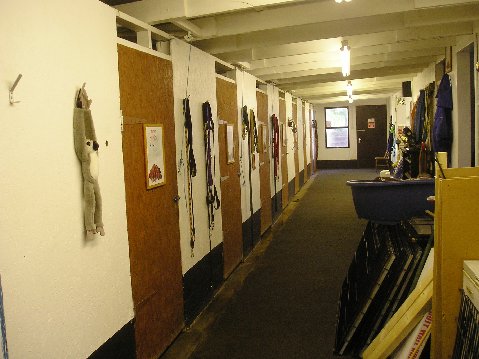 Inside Baltree Kennels.
You may be wondering why, if greyhounds are so wonderful, there is such a problem finding homes for them. The answer is quite simply down to the huge number of dogs involved. There is no way that homes can be found for the 30,000 plus dogs that are surplus to requirements each year. It is not our purpose to go into the issues of greyhound racing here, you can find these details on sites listed at the top of our links page, our purpose is to find the good homes that racing greyhounds, who have come to the end of their useful racing life, deserve. Please bear in mind that this can be as young as two to four years old.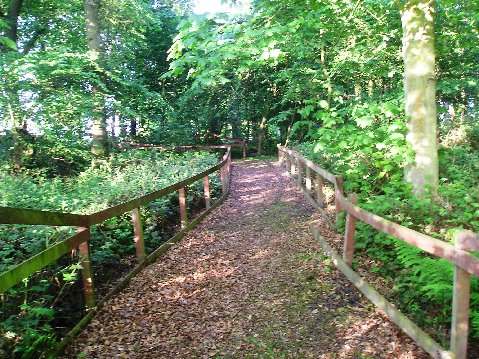 Baltree's beautiful woodland walk.
Please have a look at the dogs we have available for you to love. Just click the "Please Choose Me" button on the left, or the link below, then come along and see them for real. Please note however that you need to contact us first to arrange a suitable time to call. Our telephone number is 01577 850393 or 07826 244765 or you can email us FERNIEJIMMYF@aol.com or leave a message on our forum. We guarantee that you will soon, like us, be hooked on the best dog in the world - the magnificent greyhound.